I have an on&off relationship with wrestling, but my love for The Game and the Billion Dollar Princess knows no bounds. This is a Triple H/Stephanie McMahon/HHH&HBK appreciation blog but please be warned that the owner of this blog is mostly a pervy/shippy/rabid/snarky/childish
fangirl
troll who sometimes makes fun of the internetz... now run along, there's nothing to see here ;)
my other wrasslin blog
Oderint dum metuant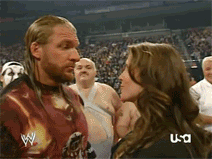 This is incredibly classy.
NEVER IN A MILLION YEARS DID I SEE THIS COMING! 
(Source: wwe-caps)
She's a successful business woman and a role model for women everywhere to follow their hearts and fight for their dreams. Lady's and gentlemen i am honored to submit the legacy of my friend . A women I love and respect . The Youngest inducted into the WWE Hall of Fame , Trish Stratus . 
(Source: ohyeahstephanie)
Triple H